REVIEW – Last year, the title ended with an exclamation point. Not this year: I don't think the game has improved enough to receive the same rating as it got a year ago. I think I even overrated 2017, but 2018 at least tried to be less of a grind fest in the career as it was a year ago. At least it's a positive.
This time, I won't screw up my wrists for no reason, so I'll focus on the differences, which shall take up roughly half of this character bunch without a joke. With an annually released sports game, I think a review should focus on the differences from the previous iteration, making a direct comparison between the two titles, so let's do it.
What remained
Despite the television visuals having received a significant overhaul this season, the game didn't even include any of that, which, in my opinion, is a hugely missed opportunity. All we get is the same thing from 2017, repainted. It applies to the commentary duo (who at least call you by your chosen nickname, one of the many presets), the podium animations, and the pilots' 2D faces (complete with that weird brightness in one eye).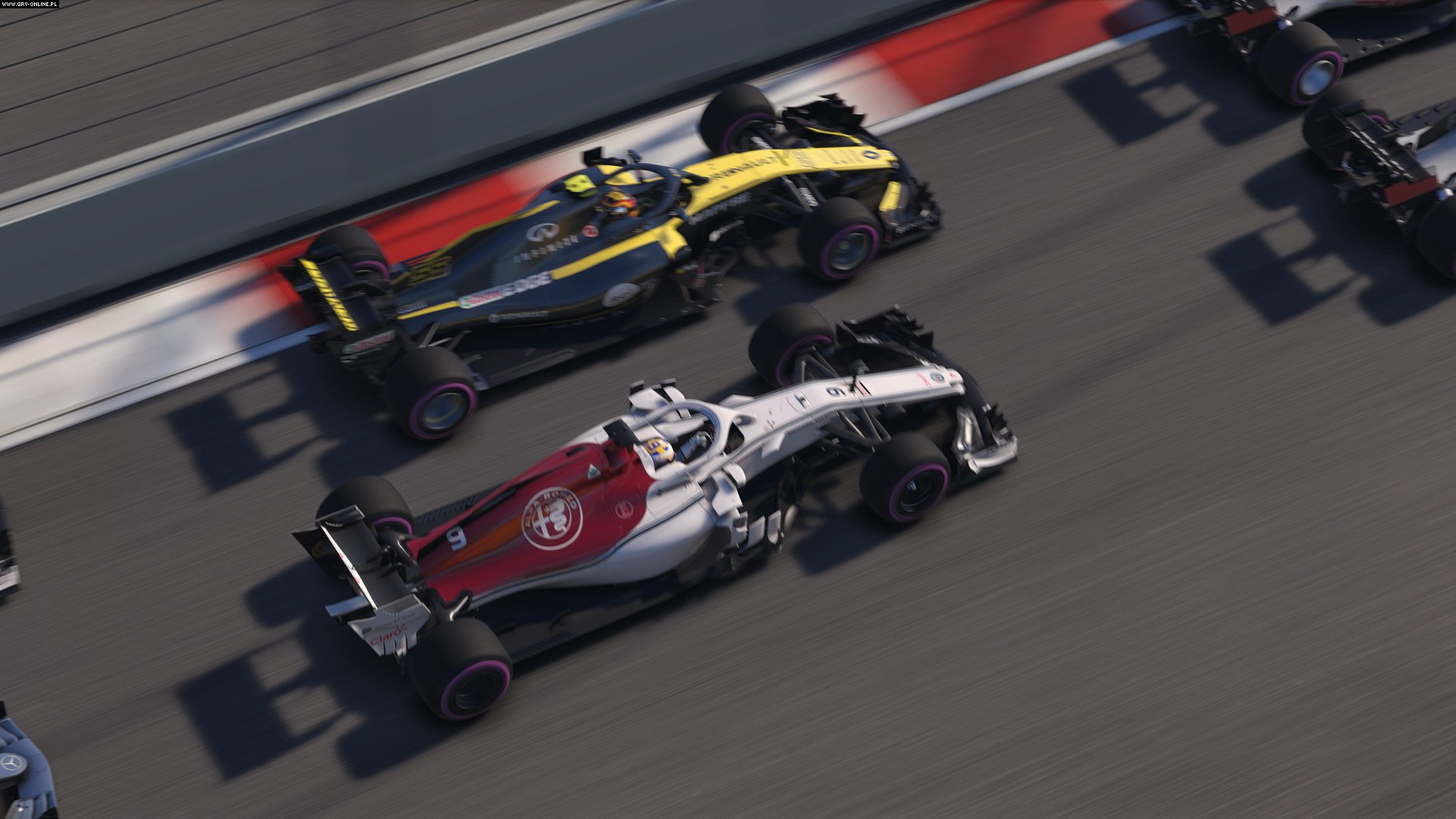 What changed
Say goodbye to Malaysia, but Hockenheim returned, and Paul Ricard showed up as an addition. I can't talk about the career mode changes this short, though: you'll gain far more resource points than last year, especially if you complete the harder team challenges (like earn X points in Y races). It can speed up the development, yes… but at a cost: you will likely get some regulation changes the following season, and you'll have to adapt your already upgraded car parts (it could affect the chassis, the powertrain, and the aerodynamics as well), which will cost points. If you don't do it, you'll lose these parts, and you'll have to redevelop them again. This idea will shake up the grid each start of the season, though.
After the races (but not always), you'll be interviewed by a reporter called Claire, and you'll have to keep an eye on what your answer is (and you get only a short period to answer), as the ending will be affected by our comments as it was a Mass Effect game our answers will affect the aero, the chassis, and the powertrain departments in our team (if we praise the said part of the car, the morale will be good, and the prices will be reduced, and vice versa), and it can also change the reputation from  our team or by other teams, too. Our responses will also improve our attitude between showmanship (putting yourself on the line before the team) or sportsmanship (the other way around, showing humility and respect). The sportsmanship/showmanship, along with the respect we have received, will determine how much of an interest we garner towards other teams, plus it will impact our contract value, which will also be important during contract negotiation talks. I'll get back to this subject in a moment. There's another scale between rookie and veteran, which shows your experience. It can play a role along with the rivalries (one against our teammate, the other one we can pick ourselves) in the teams' interest. The rivalries are decided by the same factor as last year (finishing the race, finishing on the podium, fastest lap, etc.). The bigger the name we pick for our rival, the more respect we can win OR lose if the other driver reaches those thirty points before we do. (That remained from F1 2017 indeed.)
These changes alone sound extreme, but there's also the contract with your team. You have three chances to show what you want to achieve with them, what you can achieve in qualifying and the races, whether you'd be the first driver or not, and so on. There are the perks, too, all with three levels – race bonuses (a fixed percentage of extra credits after each race), development speed increase (by one, two, or three weeks), how many simultaneous developments can a department do, and how faster your pit stops could be (which, in my opinion, is frankly bullshit because it doesn't factor in the human factor for error – it's far from realistic, lol).
With these changes, the career mode was changed big time from last year, which is a plus for me. It makes racing less boring than before, and if you complete the practice programmes (which now include the ERS management, which will be mentioned later), the credits will fly in for development, and I wrote about a page ago that it IS necessary to have credits in store. But back to ERS management, you can set the power level of your engine from zero to five (the last one being hot lap I think?), and you'll have to keep an eye on your battery, too. If you don't recharge it, you won't have much grunt on the straights, and even the Williams cars (which cause trains on several circuits…) will pass you without problems…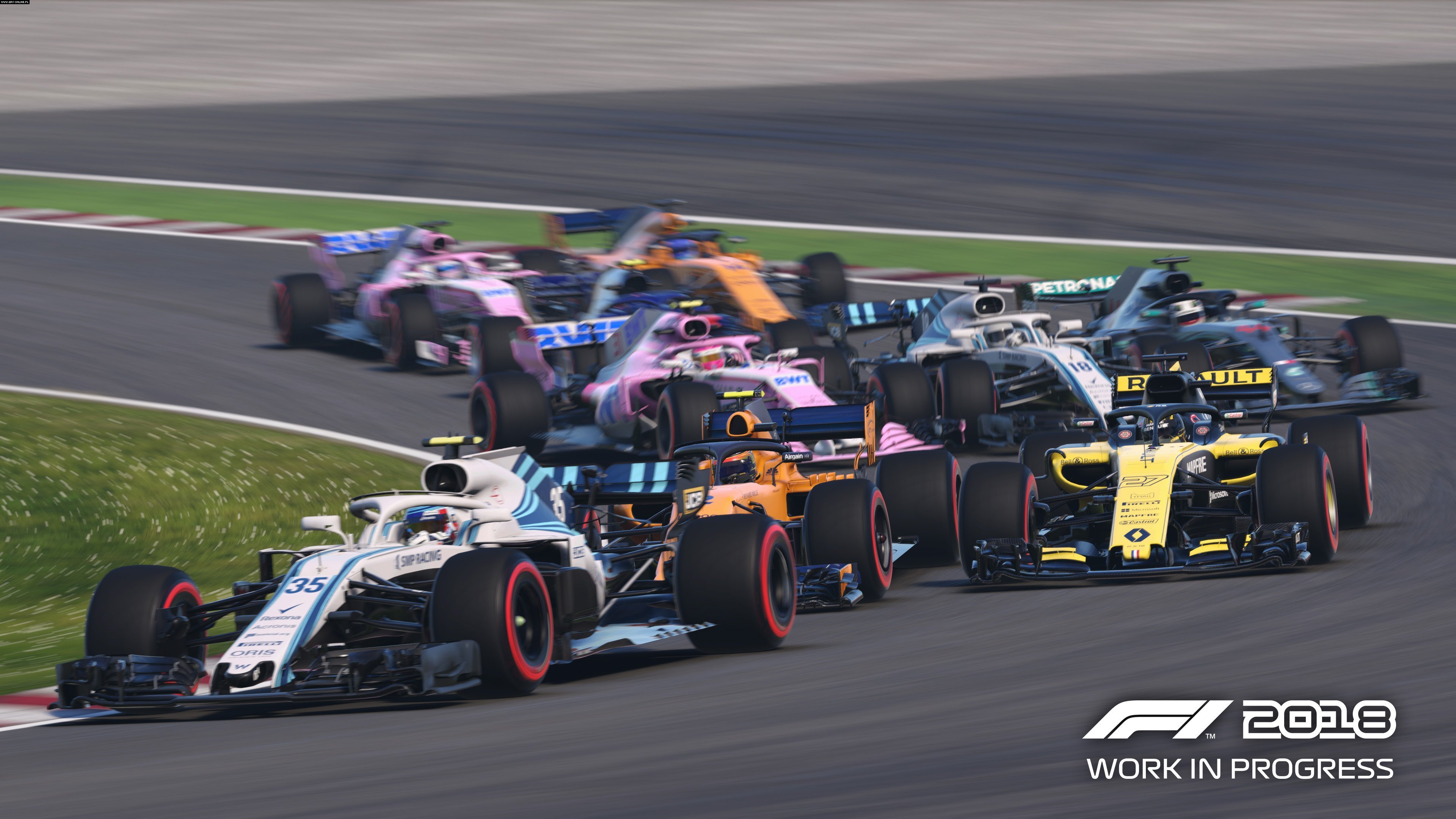 And the rest
The game's engine is the same. There is still no VR support. The graphics feel good mostly in the rain. I didn't feel much of a change in the physics so that it might have been a minor improvement. F1 2018's performance is alright, but on PC, it can freeze for a second here and there, but I'd instead not detail the reasons behind it. Sounds seem to have improved (mainly the engines feel better than in 2017), and I like how you can make the halo transparent to not block your view in the cockpit view. You can also change the number of driving aids and difficulty level, but NOT during the race weekends!
Online, you have a super license. The game will judge you, and if you play poorly (or unsportsmanlike), the other drivers will see that, and you might be kicked out of the lobby, or only find other Pastor Maldonado-like racers. There might be lag here, too, but honestly, I got used to that from Codemasters…
Only for F1 fans
I've thought a lot what F1 2018 should get. I considered 7.5, as well as 8 out of 10. The AI became aggressive and error-making, which is good, but I also experienced a lapped driver messing up right next to me, making my race prematurely end, and even destroy the suspension of the driver behind, too. (Who, for no real reason, managed to continue and finish the race.) F1 2018 is still buggy, glitchy, and you'll need time to find them. Thus, the game doesn't get 88/100 like how F1 2017 did. Nope. Honestly, I'd give it a 7/10, but then the editor-in-chief would complain, so the reason why it gets an eight is that of the career mode overhaul. A lot of things are the same as last year, but the number of the classic cars saw a boost, which is why I ended up giving the game an eight out of ten. However, do NOT buy this game for full price. Also, our teammate has some funny faces in front of the team computer. I don't know what Codemasters had smoked when they made this scene – please give me some of that stuff… or not.
-V-
Pro:
+ A reworked, addictive career mode
+ More classic cars
+ Improved audio
Against:
– A lot of things are the same as a year ago
– A bug here, a glitch there…
– The TV art style isn't utilised. A big mistake!
---
Publisher: Codemasters
Developer: Codemasters
Genre: nnual video game adaptation of the Formula-1 series, including four-wheel, open-wheel race cars
Release date: August 24, 2018
F1 2018
Gameplay - 8.8
Graphics - 7.7
Physics - 7.9
Music/Audio - 8.6
Ambiance - 7
8
EXCELLENT
Only the career mode feels better than before. It's not as good as it could have been.