PREVIEW – Yesterday, Insomniac Games revealed a lot of new details about their game. We're now dissecting everything we could find…
An announcement showed up on the PlayStation Blog, where Insomniac Games confirmed that Spider-Man would indeed launch in 2018. They announced several versions of the game (even though we are still roughly half a year away…), and they also revealed the box art, too. Here it is: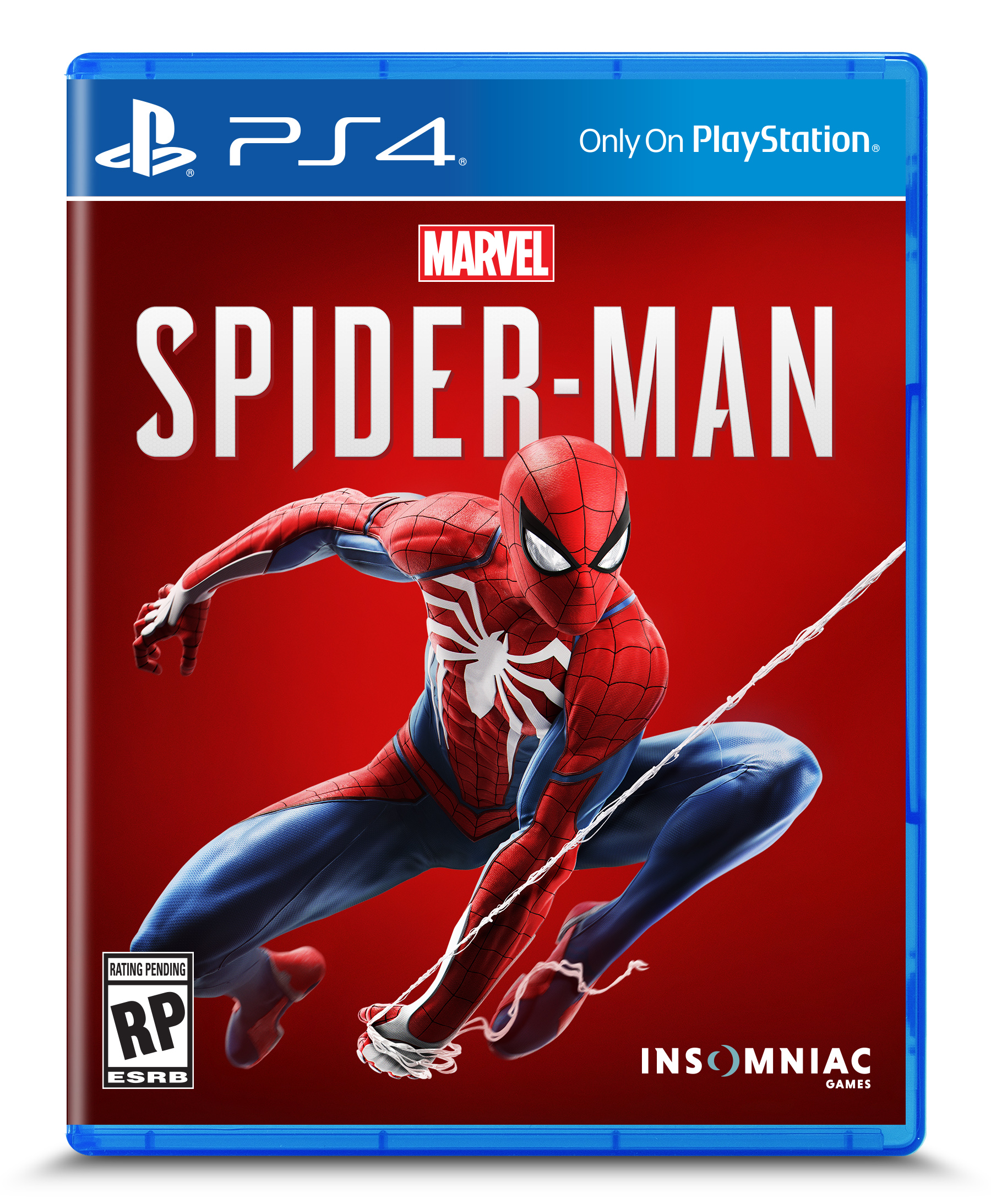 Aside from the regular edition, which will be available both physically and digitally, there will also be a Digital Deluxe edition for 80 bucks/euros, offering three new story chapters post-launch via City That Never Sleeps DLC (new missions, enemies, characters, challenges and costumes – we'll get back to it later), and there will also be a collectable pin sent out to American customers via mail.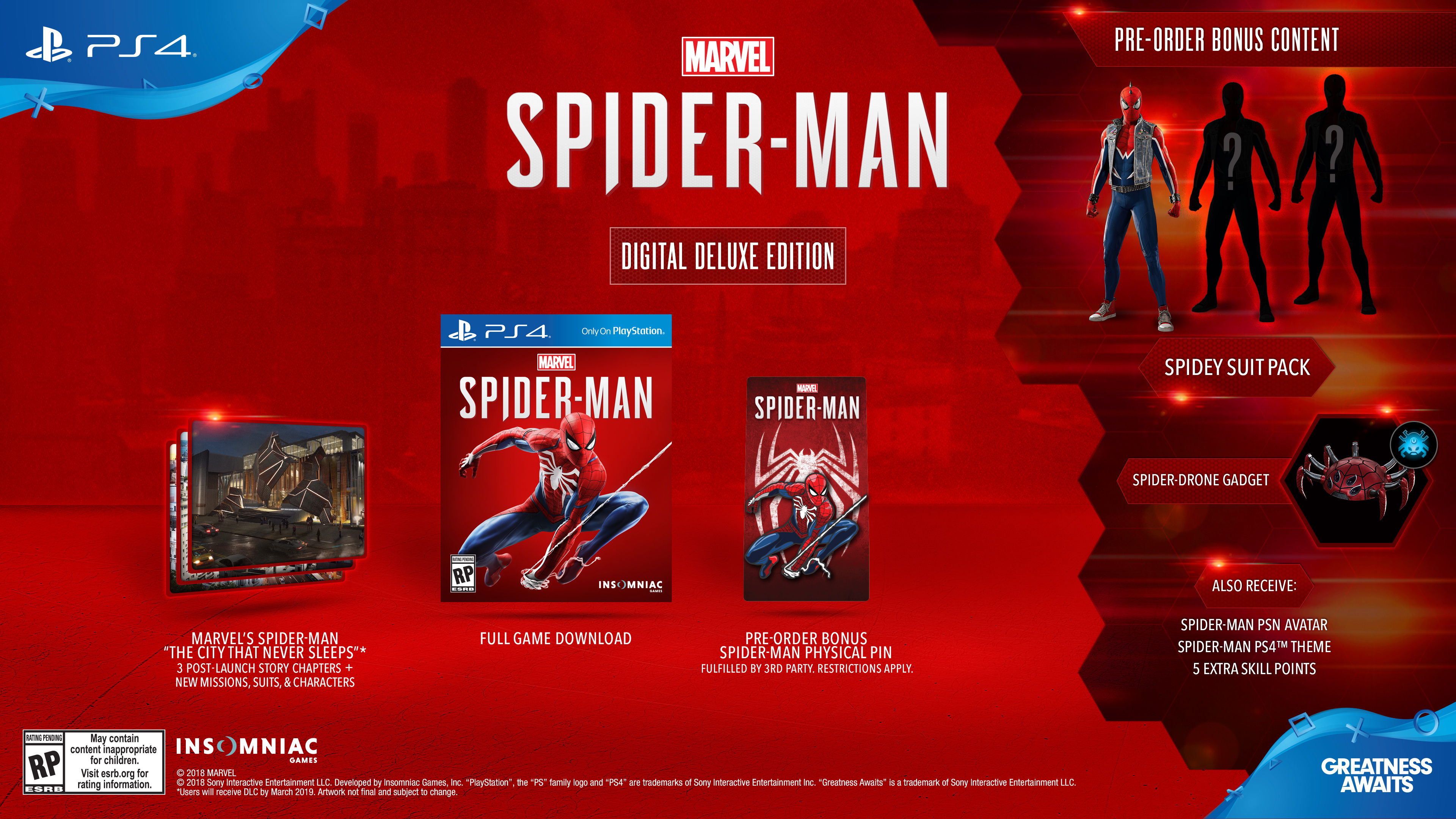 There's also going to be a physical Collector's Edition. It will contain everything that the Digital Deluxe version has, but it will also have a steelbook, a sticker, a mini artbook created by Titan Books, as well as a mini statue made by Gentle Giant – it will be revealed properly in the summer, as it would be spoiling events, and this is why it's looking weird on the image. The package will cost 150 dollars.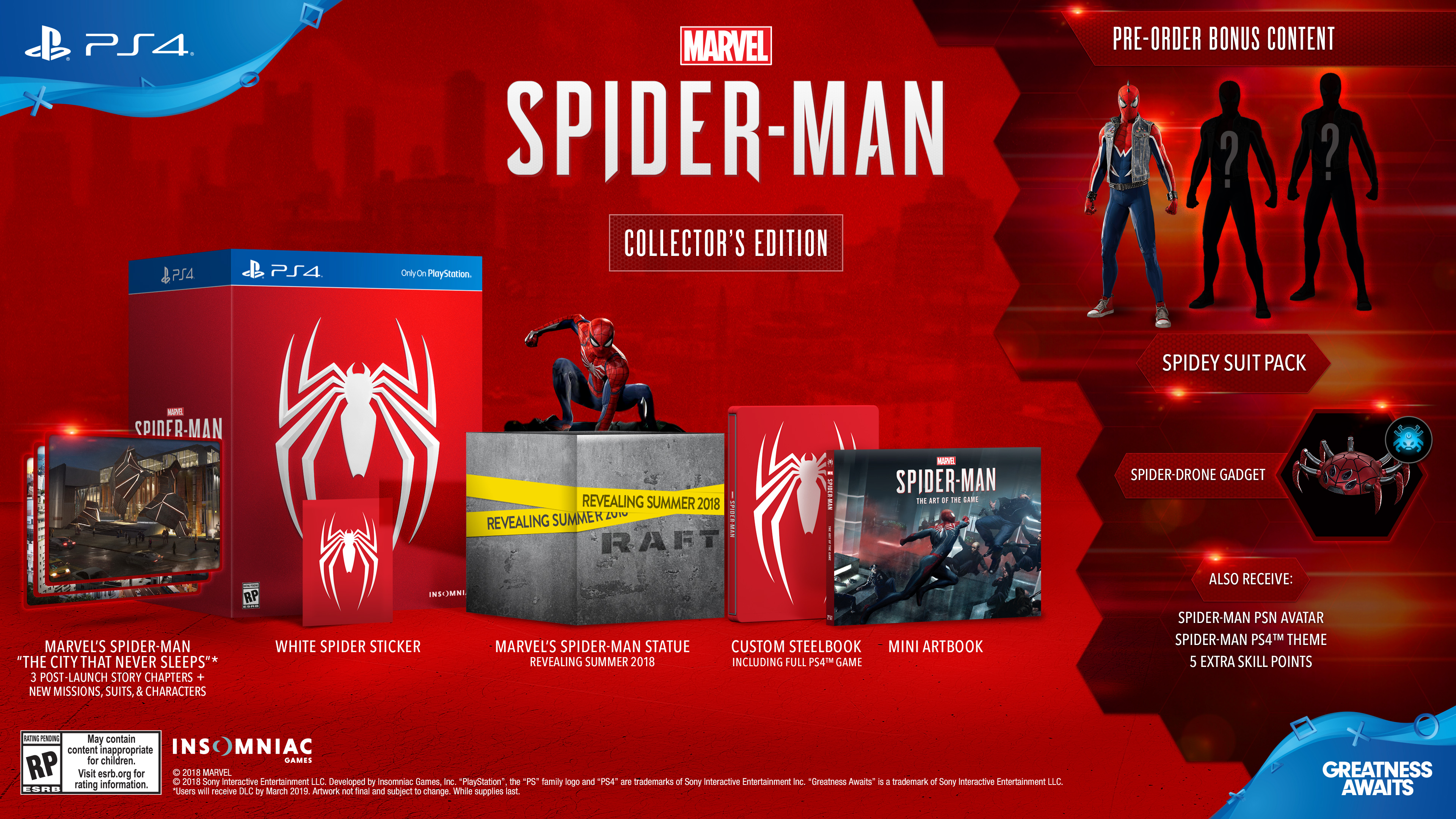 There will also be pre-ordering bonuses, too – you'll get these regardless of the version you're going to pre-order. There will be three extra costumes (only one, the Spider-Punk, was revealed… we're seriously thinking they'll keeping surprises for the E3!), as well as the Spider-Drone in game along with five skill points, plus you'll also get a PlayStation Network avatar, and a PlayStation 4 theme, designed by Adi Granov, who might be familiar for you if you are into comic books. This theme will arrive at a later date. Time for a trailer:
We could stop right here, but that was just the tip of the iceberg – the latest issue of Game Informer has Spider-Man on the cover, and thus, the game is featured heavily in the magazine. Bryan Intihar, the creative director of Insomniac Games, talked about how they improved Spidey's movement since December: "He's eight years as Spider-Man, so he's fine-tuned his traversal methods. We didn't want to stop the players' momentum at all. If you slam into a building, you run along it or up it, depending on the angle. When you get to the top, you have two options: you can keep going, which will send you into a midair jump, or you time a button press at the top of the building to catapult you forward to keep your momentum going." Ryan Smith, the director, added: "If there's a building down below, you can attach a downward web to keep your flow going. There's a physical aspect to all of it. It ends up being a different swing motion to get you back in range."
Regarding costumes/suits, Jasinda Chew, the art director at Insomniac, said: "if you think about how functional athletic gear is, that's the same logic we applied to our suit. What it does to support you and allow flexibility, that's the same logic we used. You'll see our suit has a lot of paneling, like in athletic gear. One of the main things that are different about our suit than the classic is he no longer has a red boot. If you're a 23-year-old, you're probably not going to wear a red boot. We thought an athletic shoe would be more appropriate for someone that age. The other thing we did was think of the functionality of the suit. The blue is where the suit allows flexibility, and where he has the highest range of motion. Anything that is red is made out of thicker material for armor reinforcement. It's where he might get hit the most, or where he might scrape against a building when swinging across the city."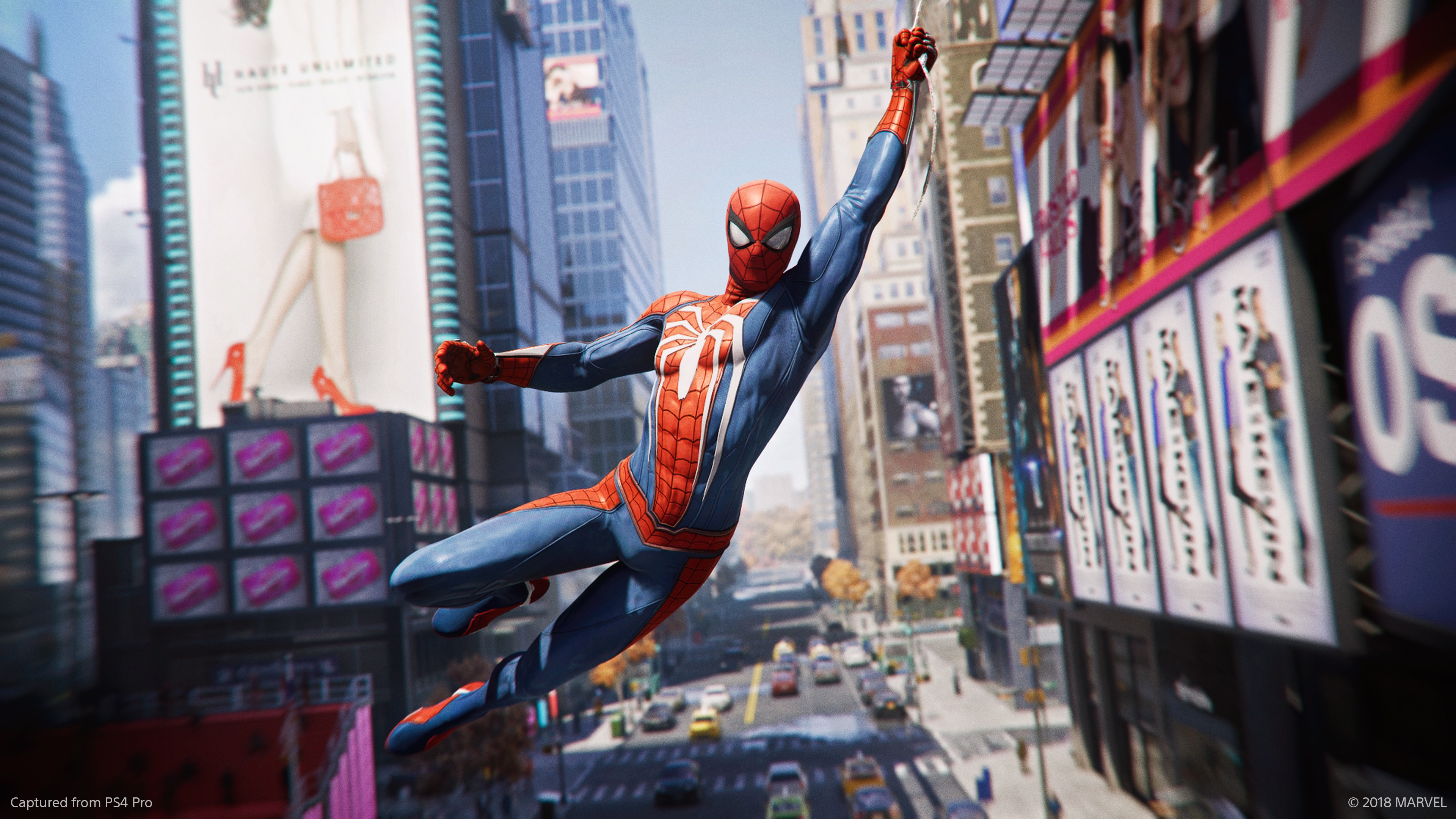 There will be several of them. Let's take a quick look. The Classic Suit turns Spider-Man into a "steamroller" – once activated, the power will make Spidey's hands glow fiery for a brief time. The Noir Suit's power is unknown, but you can take a look at the costume below. Honestly, it rather looks like something from a BDSM movie…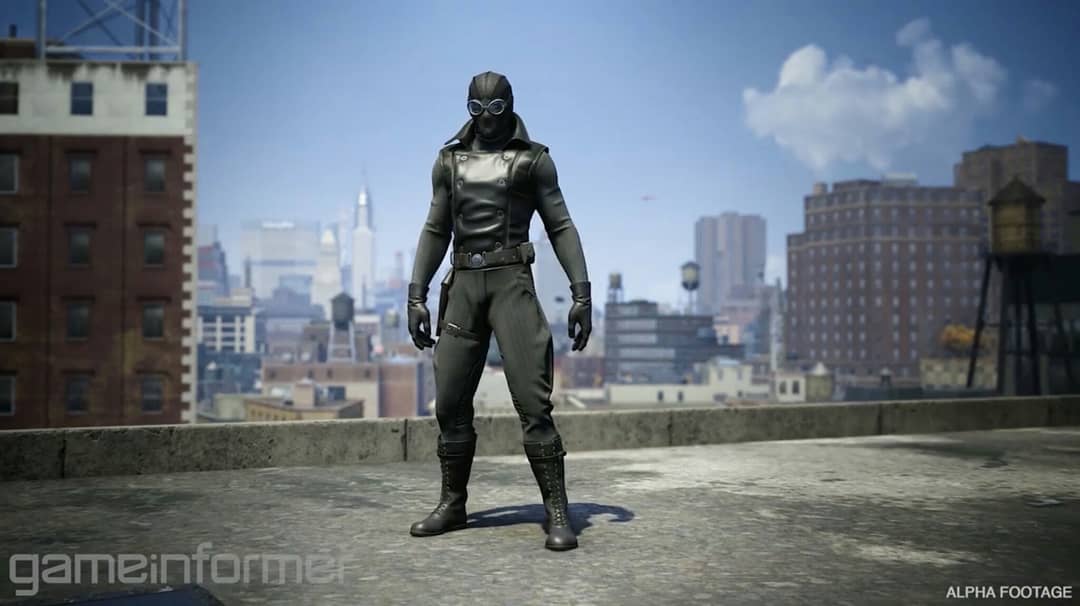 The Spider-Punk Suit (which we mentioned before…) is "buried under a sleeveless jean jacket outfitted with a dozen buttons" or so, and it also makes Spider-Man have a mohawk of spikes on top of his head. Its power is likely inspired by Insomniac's previous game (Sunset Overdrive: it will have Spidey using a guitar to send out a spherical shockwave attack that knocks down all nearby foes. The Wrestling Suit was briefly mentioned, so we don't know what it will do yet. And remember, there are two suits to be revealed this summer, so there's more to come… also, we can create custom suits, which will be a mix of original designs and those that we saw in movies and comics before.
What about the other characters? Mary Jane is going to be a playable characters, and she won't show up in just cutscenes. She is going to have her missions with unique gameplay elements. Jon Paquette, the lead writer at Insomniac, commented: "Like most of us, she started at the bottom, and she's got to work her way up. She has to pay her dues. It's serendipitous that she has Spider-Man next to her and the stories kind of follow him, right? She's got a partner there, but it is also a complicated relationship. It's hard for them because they both love each other. They've been boyfriend and girlfriend in the past, but they're both focused on their careers."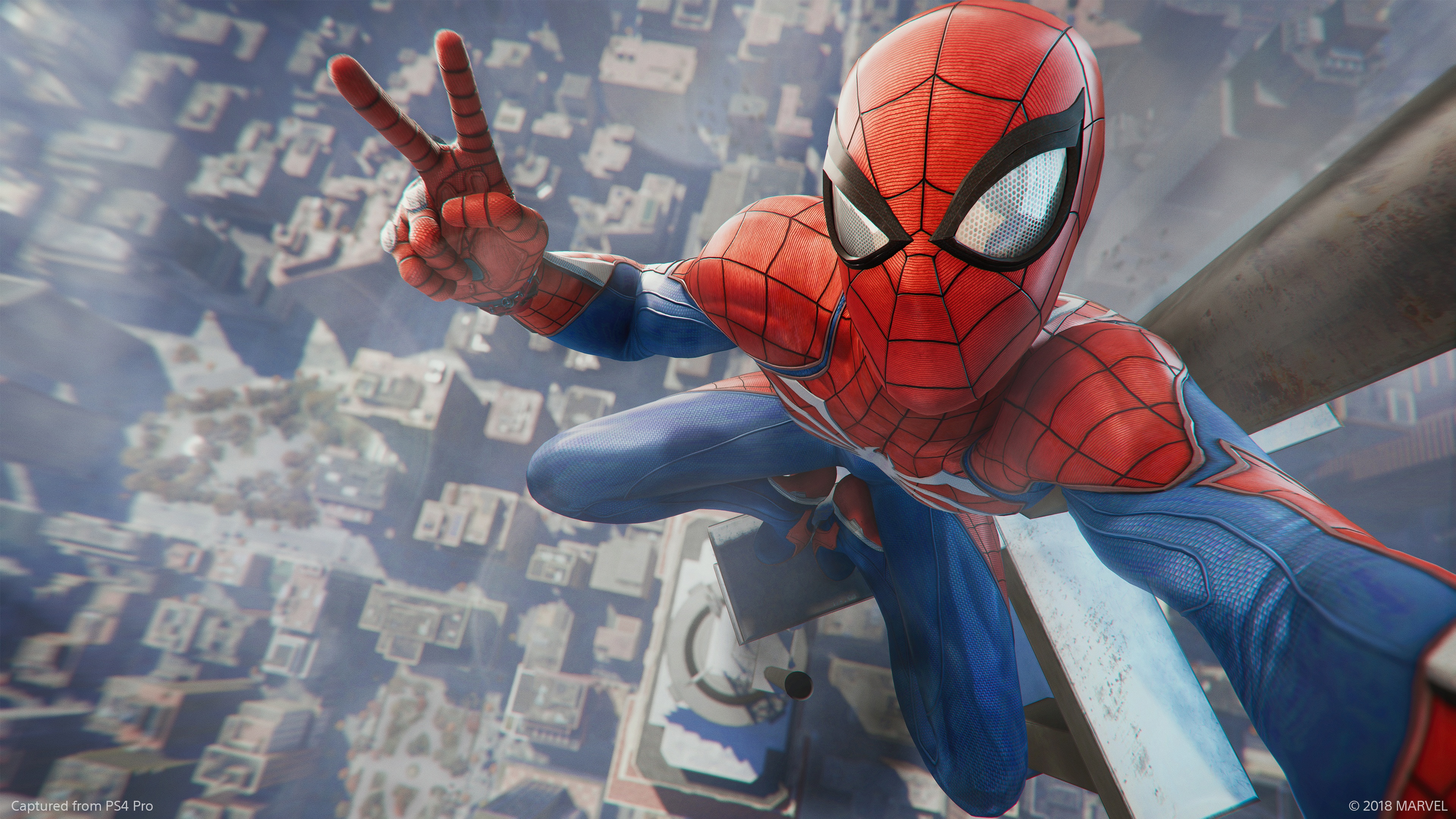 The City Never Sleeps DLC will have three portions. Each one will have its unique villain, as well their separate missions, storylines, challenges, and suits. The first one, called The Heist, will feature a museum, and Black Cat will be in focus. (Will the Avengers Tower in the background mean a cameo from them? Will there be more than that?)
Will there be microtransactions? NO. Will there be a level-up system? YES. Getting enough experience points will improve your skills (for example, the traversing between buildings). Will there be a photo mode? YES, as confirmed by Insomniac Games on Twitter. What about HDR-support? Both the PlayStation 4 (Slim) and the PlayStation 4 Pro will support it. The stronger Sony console will run the game on a 4K resolution (we don't know if it's upscaled or native yet), but both PlayStation 4 models will run Spider-Man at thirty frames per second, "just like Ratchet & Clank."
Intihar got a ton of questions from Game Informer (114, to be exact), but we mention a few new details. The game's story will be spread out over a few weeks in New York City, and you can fast travel with the underground subways. The video can be seen on Game Informer's website.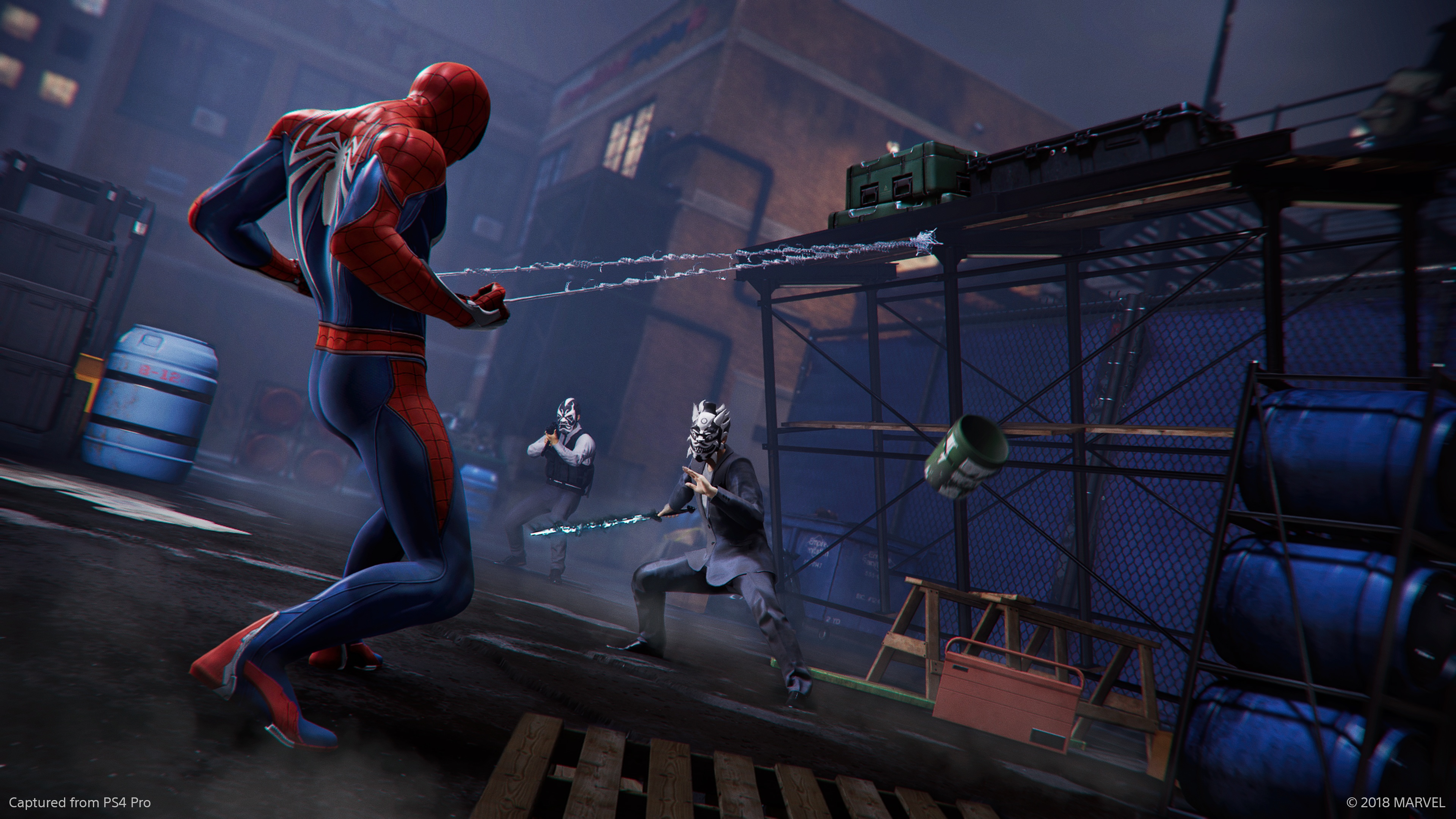 Who will be Spider-Man, though? It's going to be Yuri Lowenthal. You may have heard his voice in games (Yosuke Hanamura in Persona 4, Nikola Tesla in The Order 1886, the Prince in the Prince of Persia series to name a few; or in animes, Sasuke Uchiha in Naruto or Suzaku Kururugi in Code Geass to name just two). He confirmed it on Twitter:
At long last, the secret's out. For the last several years I've had the best job in the world, and couldn't say a thing about it. Thanks, @insomniacgames for making my inner child's dream come true. ??❤️ #spiderman #spidermanps4 pic.twitter.com/Wp1K1g2z7z

— Yuri Lowenthal (@YuriLowenthal) April 4, 2018
When will the game launch? On SEPTEMBER 7, only on PlayStation 4!
Source: PlayStation Blog, WCCFTech, DualShockers, DualShockers, GameInformer
-PS4Pro-
---
Publisher: Sony Interactive Entertainment
Developer: Insomniac Games
Genre: Action, adventure
Relase date: September 7, 2018